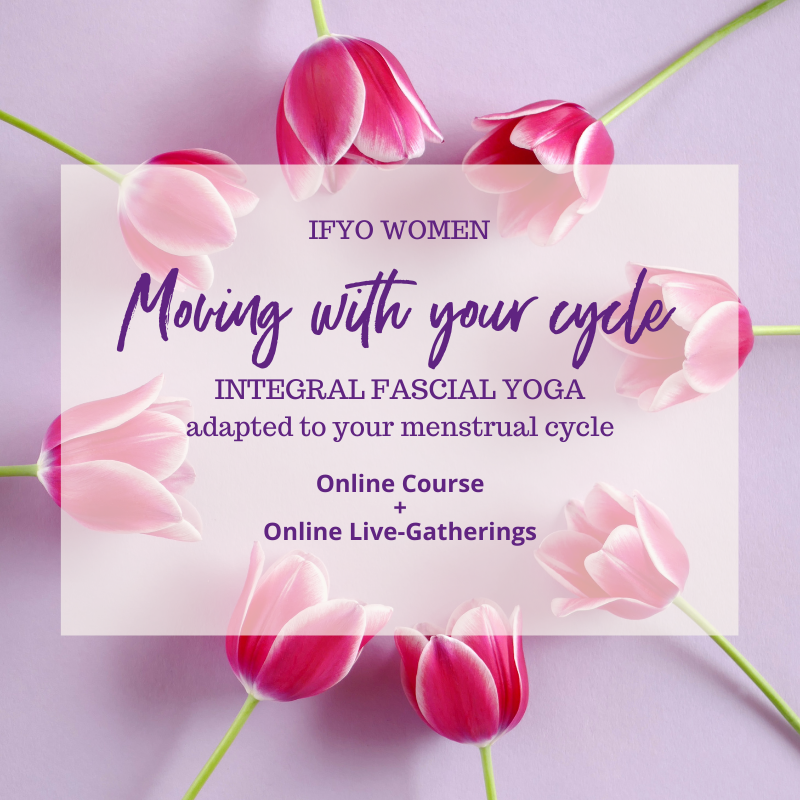 Learn how to adapt your Fascial Yoga Practice to your menstrual cycle. Fascia reacts to hormonal changes related to estradiol and relaxin. It is beneficial to adapt your fascial stimulation to reflect these changes in order to keep your tissue healthy and strong.
You will receive 7 pre-recorded videos and 4 guided meditations that you can practice in your own time depending on where you are in your cycle. For the course of 4 weeks weet meet on Saturdays for an online Live-Gathering (optional).
Start: Saturday, 3rd of April 2021
Namasté
Welcome to Integral Fascial Yoga – I am happy you found your way here! I would love to get to know you personally soon in one of my online courses, workshops, retreats or teacher trainings.
Book
In June 2017 my book "Fascial Yoga – all you need to know" – the standard title with regards to fascia and Yoga was published in Germany. It will soon also  be pusblished in Czech and English. The book explains all relevant theoretical and practical aspects of Fascial Yoga in a profound yet easy to read manner. You will get to know the 8 principles of Fascial Yoga as well as a large number of exercises and modifications. The book is equally suitable for Yoga Teachers as wells interested Yogis and Yoginis.
Teacher Training
You are a Yoga Teacher and would love to dive deeper into the world of Fascial Yoga? I offer an extensive online teacher training that consists of 16 modules (theory as well as practice sessions including online live sessions for questions and answers with me). After passing the written and practical exam you will get certified as Fascial Yoga Teacher.